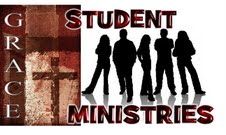 Mission
We are: "A group of disciples who, through the Gospel, by the power of the Holy Spirit, are committed to actively communicate with God through the Scriptures and prayer, to worship, to love God and love others with all we have, and to be transformed as we serve Christ and look forward to His return!"
We meet every Wednesday during the school year (unless otherwise noted):
Junior high is from 3:30 to 5:00 p.m.

Senior high is from 7-9 p.m.
Questions
If you have any questions about any of these items,
contact Pastor Langseth
.
There are two Evangelical Free Church Conferences that our youth attend. The District Blitz Conference traditionally meets near the end of April and meets either in Duluth or Rochester. The National Youth Conference meets every other year in various locations out of state.
Sunday Night At Grace (SNAG)


Join us Sunday Nights at Grace (SNaG) for our summer youth group gatherings for both Jr. High ...

more

---

Manly Monday


Young men of Grace, join us for Manly Monday! We meet Mondays from 11am to 1pm several times ...

more

---

Soul Sisters


Soul Sisters "Your beauty should not come from outward adornment, such as elaborate ...

more

---

Calendar of Events!


Student Ministries is for youth in middle school and high school. Come join us so you can grow ...

more

---

District Blitz Conference


District Blitz is an annual student ministries conferenced hosted by the North Cenbtral ...

more

---

National Youth Conference


Challenge is a five-day catalytic experience that challenges students to live on mission with ...

more

---

REVIVE Fall Retreat


Join us for our annual Fall Retreat - Revive! October 25-27 @ Living Waters Bible Camp A 3-day ...

more

---